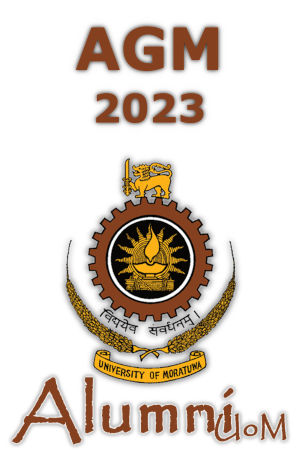 All UoM Alumni Members are cordially invited to the Annual General Meeting 2023 of the University of Moratuwa Alumni Association.
Date: Friday 10th November 2023
Venue: WATERS Edge – Albatross Hall
Time: 5.30– 7.00 PM
Dress Code: Smart Casual
Entrance of the AGM: FREE
Agenda:
5:30 - 5:45 Registration
5:45 - 5:50 Opening of the AGM by President
5:50 - 5:55 Secretary's Report
5:55 – 6:00 Financial Report
6:00 - 6:10 Felicitation of Retiring Academic Staff
6:10 - 6:20 Appointment of the New Committee
6:20 - 6:25 Address by the New President
6:25 - 6:30 Vote of Thanks
6:30 – 7.00 Refreshments & Fellowship
Registrations: Please confirm on or before 6th November 2023 if you wish to attend the AGM
Phone: 0112650018
Email: This email address is being protected from spambots. You need JavaScript enabled to view it.
---------------------------------------------------------
NOTE
AGM is followed by a dinner dance in celebration of the 50th Anniversary of our "Alma Mater". Don't miss out on this unforgettable evening of reminiscence and camaraderie. Tickets are priced at Rs. 10,000/-.
Limited Tickets Available. Please request a ticket if you wish to attend the dinner dance.
Kind regards,
Suranga Jayasena
Honorary Secretary
Alumni Association of the University of Moratuwa
University of Moratuwa
Katubedda
Moratuwa
Sri Lanka